Skip to Content
What You Should Do When a Water Pipe Bursts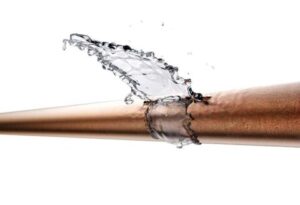 As outdoor temperatures begin to dip, your home's plumbing system becomes more at risk for serious pipe damage. Cold temperatures can cause water in your home's pipes to freeze. As the water freezes, it expands and places a significant amount of pressure on the walls of the pipes containing it.
Pipes can burst during the cold winter months, leaving your home susceptible to serious water damage. Dealing with a burst pipe can be overwhelming, but there are some simple steps that you can take to ensure the damage caused by a burst plumbing pipe is kept to a minimum.
Here are three things that you should do when a pipe bursts in your home.
1. Turn Off the Water
A lot of the damage associated with a burst pipe occurs as a result of the water that leaks out of the pipe and into your home. Water has the potential to damage drywall and insulation, and moisture can contribute to the formation of mold and mildew within your home as well.
In order to minimize the amount of damage you deal with after a plumbing pipe has burst, you need to turn off the water supply coming into the pipe. Start by locating your home's main shut-off valve. This valve is typically located where the main pipe connecting your home to your municipal water system enters your residence.
Turn the shut-off valve to the off position to prevent any water from entering your home's plumbing system. When you turn off the water, you eliminate the need to worry about water leaking out of a burst pipe and compromising the structural integrity of your home.
2. Locate the Break
Homeowners are often alerted to the presence of a burst pipe by pooling water or saturated building materials. Once you have shut off the supply of water coming into your home, you need to locate the damaged pipe in order to assess your repair options.
Start by identifying the area with the most water damage. Locate any plumbing pipes near the damaged area, and follow these pipes in either direction to check for damage. Some burst pipes are easy to spot because the freezing water within them will blow out the entire wall of the pipe.
Other burst pipes can be more challenging to identify, especially if the freezing water within them has caused only a minor crack or fissure. Use both your eyes and your hands to help locate the break as you attempt to identify which pipe in your home has burst.
3. Contact a Plumber
Once you have located the burst pipe, you should contact an experienced plumbing contractor for help making the necessary repairs. Not only will the damaged section of pipe need to be replaced in order to prevent water from damaging your home, but the cause of the burst pipe will need to be addressed as well.
Simply replacing a damaged pipe will not prevent the pipe from freezing again. A plumbing contractor will be able to evaluate your home's plumbing system to determine if you need to add insulation to your pipes in order to keep water temperatures above the freezing point.
The plumber will also be able to inspect other pipes near a pipe that has burst for signs of weakness or deterioration that could indicate these pipes will fail in the future.
A burst pipe can be taxing, but you don't have to battle with a busted pipe by yourself. Contact our experienced professionals at Parker & Parker Plumbing for help when it comes to addressing a burst water pipe in the future.
""
Schedule Your Appointment Today