Skip to Content
Drain Cleaning Services in Visalia, CA and Beyond
Trust Parker & Parker Plumbing For Drain Cleaning Services
For more than a decade, Parker & Parker Plumbing has provided homes and businesses throughout the Visalia, CA area with expert plumbing services, including drain cleaning. Over time, your drains will become clogged with hair, soap scum, debris, and more. Even the cleanest owners will run into issues with clogged drains and pipes at some point. While you may think putting chemical solutions down will totally clear your pipes, this is simply a band-aid for a more significant problem. It would be best if you relied on our professionals to provide you with a drain cleaning service to get your water draining again instead of trying to perform these tasks yourself. Attempting these types of services without training or licensing can lead to costlier repairs, premature replacements, or injury. If you suspect your pipes are clogged throughout your home or business, give Parker & Parker Plumbing a call today for expert drain cleaning services and more. Our team quickly gets to the root of the problem and develops a personalized solution to get clean water flowing throughout your house or office.
What Are Drain Cleaning Services?
When you have tried everything in your local hardware store's arsenal to unblock your drain, it's time to call Parker & Parker Plumbing. Our team of expert, licensed, and certified plumbers come to your home with everything we need to unclog your sinks, tubs, and more with our unparalleled drain cleaning services. We can also give you tips and tricks to prevent the issue from occurring again in your Visalia home or office. Below are the types of drain cleaning services we provide:
Drain Cleaning – Parker & Parker Plumbing technicians carry all of the required equipment when visiting your home and office, including large drain snakes and hydro jetting machines. Thanks to our many years of experience in the field, there is no Visalia drain we can't clear.
Drain Repair – If you have a busted, leaking, or clogged drainpipe, you should reach out to the trained and licensed professionals at Parker & Parker Plumbing. We offer Visalia residents, and business owners drain repair discounts to quickly get clean water flowing throughout their space for everyone under their roof. We use only the best materials the industry has to offer.
Drain Cleaners – We utilize a system called hydro jetting to clean out your drains. This is the process of cleaning the main drain line with high-pressure water, which can even cut through tree roots and other blockages to make way for your clean water
Rooter Service – Parker & Parker Plumbing can easily cut through and remove tree roots crushing your existing pipes using modern and innovative tools. We can also clear roots which have broken through and blocked the water from getting to your bathroom, kitchen, and more.
Sewer Cleaning – Every home and office has sewer pipes that take the waste from your building and disposes of it to a treatment plant, and keep your space safe with clean water. These pipes can get clogged just like any other and need servicing every once in a while to maintain your water quality.
Sewer Repair – We are the sewer repair and sewer replacement experts Visalia residents and businesses trust. Parker & Parker Plumbing has a service where we can inspect your sewer line with our video camera to get the best view possible and diagnose the problem. Then we can recommend the best Visalia sewer repair for the situation based on what the sewer video shows.
Drain Rooters – These are the tools we use when cutting through tree roots that have penetrated your plumbing system. They quickly cut them out so we can repair and replace the existing pipe and get clean water running through your plumbing again quickly.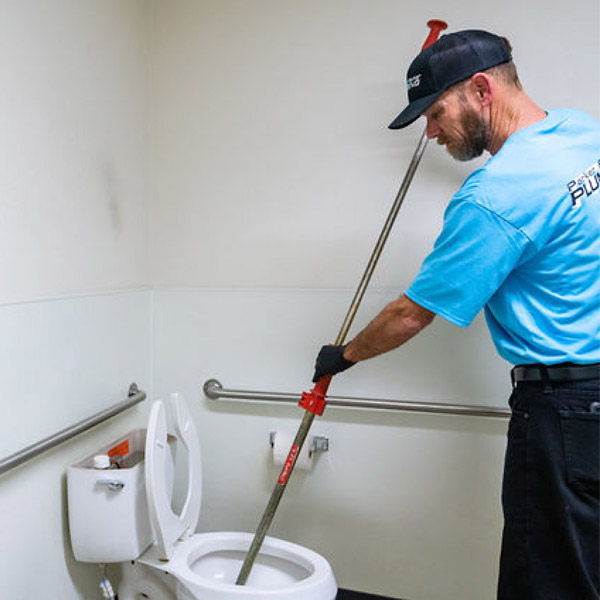 Common Causes For Needing Drain Cleaning Services
Most commonly, your drains get clogged because of issues like hair getting down the drain, but in our experience, we have seen many different reasons for clogged drains and the need for drain cleaning services. Even if you do not know the cause for your problems below, give Parker & Parker Plumbing a call, and we will investigate why your system will not drain properly:
Tree Roots
Bush Roots
Debris
Soap Scum
Waste Buildup
Small Items Accidentally Flushed
Dirt
And more
Benefits of Regular Drain Cleaning Services
Getting your plumbing system cleaned out regularly will ensure you get the best water possible when cooking, cleaning, bathing, and more. Our team dedicated ourselves to ensuring everyone under your roof stays safe and healthy when needing to use the faucet. Performing drain cleaning services also help us spot minor issues before they become potentially more extensive and more costly. We can also give you a better heads up as to when the plumbing will need replacing so the charge does not seem so daunting and you can begin saving.
Why Choose Parker & Parker Plumbing For Your Drains
Visalia, CA home and business owners have relied on our specialists for over a decade because they know each drain cleaning service comes with a smile. Each of our plumbers has all the necessary certifications and licensing to get the job done swiftly and correctly. Get your water back with Parker & Parker Plumbing. We understand the need to have clean water in either your home or workspace, which is why we move quickly and thoroughly when you call.
Call Parker & Parker Plumbing Today For More Info
Do you still have more questions about how Parker & Parker Plumbing can help your home or office with drain cleaning services? Reach out to us if you have tried everything to get the water to flow in your kitchen or bathroom sink. We will deliver expert services and stay with you from start to finish and answer any questions you may have about the equipment used, materials chosen, or what caused the backup in the first place.
Schedule Your Appointment Today