Skip to Content
Trenchless Sewer Replacement From Parker & Parker Plumbing
Parker & Parker Plumbing Works For Visalia, CA
Parker & Parker Plumbing is the team to contact when you need assistance with trenchless sewer replacements. We are well versed in all the methods and innovations in the industry and provide your home with nothing but stellar services when it comes to these types of replacements. We strive to keep your lawn and landscaping in excellent condition by digging as little as possible when getting your new plumbing system. For more than 35 years, residents and businesses in the Visalia, CA area have trusted us to get the job done efficiently and effectively. Give us a call today and set up an initial consultation to see how our trenchless sewer replacement services can help your home or business.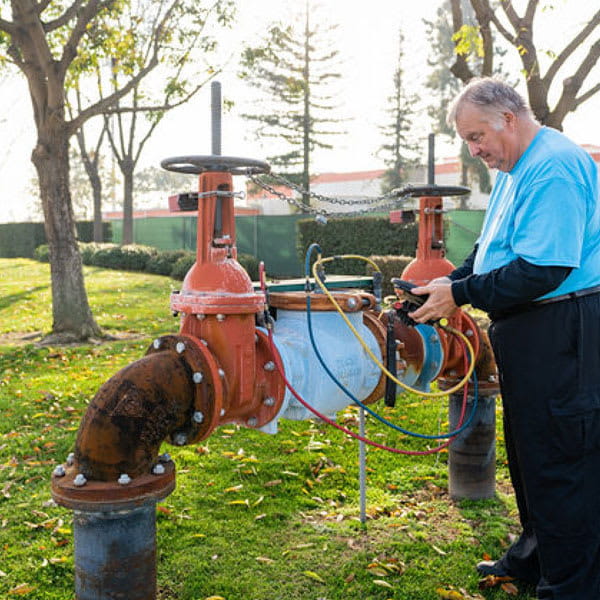 What is a Trenchless Sewer Replacement?
If your sewer line has experienced issues with frequent clogs, breakage, or roots have broken through, you will need to get it replaced. Parker & Parker Plumbing aims to perform this service while disturbing your property as little as possible. Trenchless sewer replacements happen primarily above ground and can be completed in as little as a day. Our plumbers come to your home equipped with the knowledge, experience, and tools to get the job done on time and correctly the first time.
Sewer Relining and Hydro Jetting
Sewer relining throughout Visalia by Parker & Parker Plumbing can usually be completed within one day. We use a camera to do a sewer inspection to determine the condition of your sewer pipe. If the pipe is busted or otherwise broken, you may need a new sewer line. We can perform a trenchless sewer replacement in Visalia, California by digging one small access hole. Through this hole, we gain access to the sewer line.
Then we thoroughly clean the line by hydro jetting. Once the line is clean, we use a liner and a resin mixture to create what is called a cured-in-place pipe. We make the new sewer pipe onsite and push it through the old sewer line using high air pressure. This process is an excellent choice for trenchless sewer replacement in Visalia, California.
Signs You Need Trenchless Sewer Replacement Services
Since your sewer line is underground, it can be difficult to spot when there are troubles coming your way. To help you spot these issues before there is an emergency, we have listed them below:
Odd Odors: If you begin to notice odd odors coming from the drains and faucets throughout your home or office, this could be a sign of issues in your sewer line. Parker & Parker Plumbing is happy to come out and inspect your system to see if trenchless sewer replacement services are required. The earlier we catch issues, the less you will need to pay potentially.
Toilet Making Strange Sounds: It should be making noises when in use, but if you begin to hear strange sounds when not in use or see bubbles coming up in the bowl, you have issues with the sewer line. These are sure signs it is time to call on the professionals at Parker & Parker Plumbing.
Improper Draining: If you have noticed your sinks or tubs are having a more challenging time draining, and you have tried all the DIY at-home remedies, you should reach out to Parker & Parker Plumbing. Our team can inspect your system and see if it is time to replace your sewer line.
Lush Green Spots in Lawn: While it may be nice to have a gorgeous green lawn, if it is uncommon, your sewer line could have cracked or burst to allow water into your lawn. Trenchless sewer line replacement helps protect your yard and get your clean water again in no time.
Found Mold in the Walls: Mold growing in the walls could come to form a multitude of different sources. Parker & Parker Plumbing will inspect your system to ensure it's not the sewer line, but if it is, we can help.
More Puddles Than Average: Puddles throughout your yard could coordinate with where there are issues. Our team quickly investigates to see if your Visalia, CA home or office needs trenchless sewer replacement services from our well-trained and well-qualified team members.
Types of Trenchless Sewer Services
Whether completely busted or in need of repairs, Parker & Parker Plumbing has the solutions you need when your sewer line is in trouble. Our experts have seen it all when it comes to issues with this part of the plumbing system and will create a solution that is agreeable to your needs and wallet. We provide all of the following and choose the best one for your system:
Trenchless Sewer Replacements
Trenchless Sewer Repairs
Sip Lining
Cured-in-Place Pipelining (CIPP)
Pipe Bursting
Rooting
Call Parker & Parker Plumbing Today For More Help
No matter the issues happening with your plumbing system, Parker & Parker Plumbing will have the correct answer and tools to have the pipes bring in clean water and remove your waste. Give us a call at the first sign of issues so we can inspect and diagnose before the problems become out of hand and turn into an emergency. This will also help save your wallet by receiving these minor services.
Schedule Your Appointment Today