Skip to Content
Leak Detection Service in Visalia, CA
Parker & Parker Plumbing Finds & Resolves Your Leaks
Water damage can ruin your home and lead to other severe issues like mold and mildew growth. A gas leak or plumbing leak can also put your family at risk with poisonous fumes and a potential explosion. Fortunately, Parker & Parker Plumbing can help you stay safe and protect your property in Visalia, CA with our leak detection services. We respond quickly to carefully examine your plumbing, gas lines, or under your slab to find leaks as soon as possible. Our team uses non-invasive methods in the leak detection and repair process to ensure your home doesn't sustain unnecessary damage while we work. Customers throughout the area have relied on our plumbing business's exceptional plumbing services since 1982. We have ample training and experience performing gas and plumbing leak detections, drain cleaning, whole-house water filtration, and many other services. If you need a plumbing installation, repair, or any other professional help with your home's plumbing, we're ready to schedule service at your home.
What We Do in Slab Leak Detection
Parker & Parker Plumbing can help you protect your home by detecting and locating leaks under your slab. We put our years of plumbing expertise into every job to ensure the best results. If you have any type of leak occurring, our team will find it and provide the most cost-effective and conclusive solutions to resolve it. A leak in your home's plumbing system can cost you extra money from wasted water, and the water can easily cause damage to your foundation or structure. Let our team perform slab leak detection services to keep your home safe, preserve its condition, and save you money. We offer the following slab leak detection services:
Leak Detection – If you think there's a leak located under your concrete slab, you can speak with one of our leak detection plumbers to determine how we can locate it. Once we know there is a leak, we can get to work fixing it and restoring your plumbing's condition. A leak could come from anywhere, so we offer essential, full-service care like corrosion detection and radiant heat leak detection and repair. If necessary, we can perform slab repair to ensure your home returns to top condition.
Leak Locating – After confirming you have a leak in your system or under your slab, our team works to narrow the possible leak location so that we can repair it. Our non-invasive leak locating methods are highly effective and have the least impact on your property. We use outstanding industry equipment to locate your leak, including electronic pipeline locators, amplification equipment, and video pipe inspections to ensure the quickest and most accurate results. After locating your leak, we get to work performing under-slab plumbing repairs to stop the leak and prevent future issues.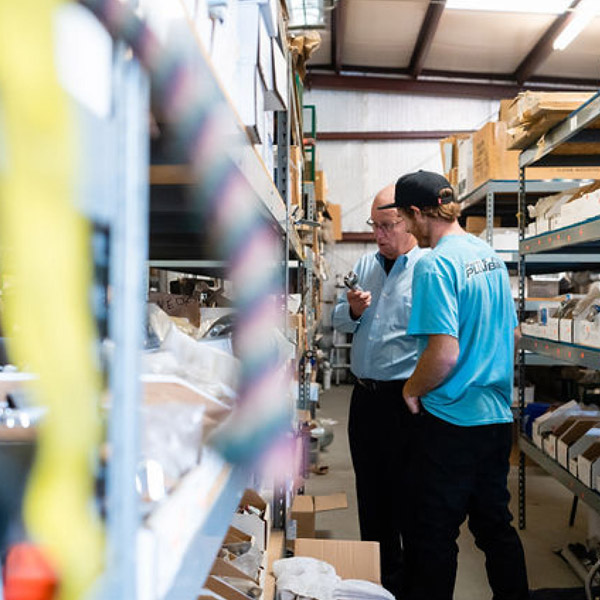 Types of Leak Detection We Offer
Your home's safety and integrity are at risk when you have a gas or water leak. Parker & Parker Plumbing is ready to respond to service requests throughout the area because we understand how essential quick detection and repairs are to prevent further issues and irreversible impacts on affected properties. Reach out to us immediately if you notice signs of a leak, such as sudden mildew growth, cracks in your walls or flooring, wet or spongy walls or floors, or a continuously rising water bill. Our gas and water leak detection services can save your property investment with conclusive leak locating and definite repair solutions. We've listed the types of leak detection we offer below:
Slab Leak Detection – Our team uses state-of-the-art equipment and techniques to detect and pinpoint leaks under slabs. Once we find a leak, we get to work fixing it and restoring your home's plumbing.
Gas Leak Detection – A gas leak is especially dangerous because the fumes escaping from your pipe are hazardous to breathe and highly flammable. We perform gas leak detection and locating with the utmost care to find it before problems escalate and resolve it conclusively.
Why & How We Fix These Leak Issues
If you have a gas or water leak, locating it and repairing it is paramount to protect your property. At Parker & Parker Plumbing, we understand how important exceptional plumbing services are in this situation. Our team arrives on time and works on schedule while treating your property with the utmost respect and cleaning up before we go. The leak detection process involves using industry-trusted technology and methods to find and locate gas and plumbing leaks. We work quickly to find and repair these issues because they can cause expensive damage and endanger your household. Water and moisture can damage your wood, drywall, and other materials, and it may escalate to structural damage if you try to ignore it. Mold and mildew can also grow and spread, causing odors, harmful airborne spores, and further damage to your structure and possessions. A gas leak is especially dangerous because the gas is combustible and may ignite. Your wallet will take a hit, too, since a gas or water leak will increase your utility bills.
Contact Us Today for Service in Visalia, CA
Parker & Parker Plumbing is here for you whenever you suspect you have a gas or plumbing leak. We apply our decades of industry knowledge and the latest technologies and techniques to ensure you get the best and quickest service possible. Contact us today to schedule service at your Visalia, CA property.
Schedule Your Appointment Today