Skip to Content
Commercial Plumbing Services in Visalia, CA
Aid Your Business With Trusted Commercial Plumbing Services
Reliable and efficient plumbing is a leading priority for business owners. As such, when business owners in Visalia, CA are searching for a trusted partner in commercial plumbing services, they choose Parker & Parker Plumbing. From skillful commercial plumbing installations to intricate repairs and preventative maintenance, our professionals are here to ensure smooth plumbing system operations.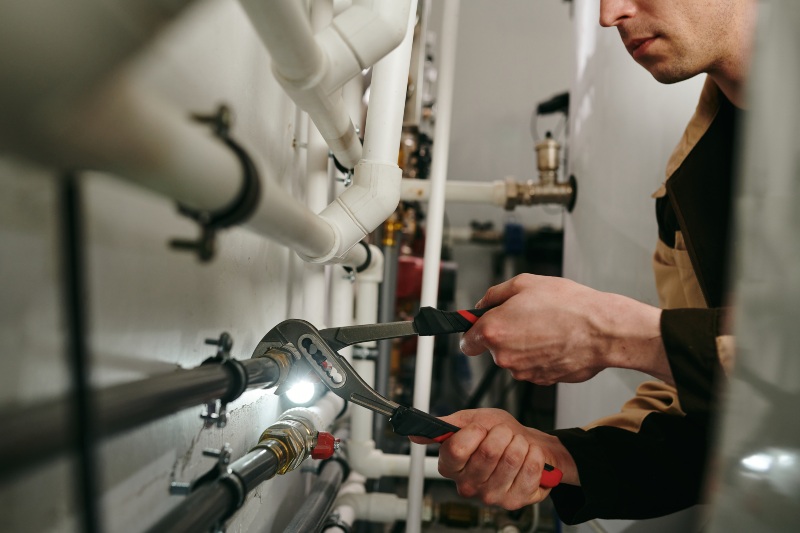 Custom-Tailored Commercial Plumbing Solutions
Parker & Parker Plumbing's commercial plumbing services encompass a vast range of commercial plumbing solutions that we custom-tailor according to the unique demands of your establishment. Combining industry-leading knowledge and time-honored experience, we ensure reliability and efficiency for your business, creating a safer, more comfortable, and more productive environment for your employees and guests.
What Is Commercial Plumbing?
Commercial plumbing systems are large-scale plumbing fixtures that support the needs of commercial properties. Due to their expansive size, commercial plumbing systems have specific requirements, heightened water demands, and specialized features not found in residential systems. As such, these systems require the dedicated assistance of trusted commercial plumbers to ensure optimal performance.
Commercial Establishments We Service
We extend our commercial plumbing services to a wide range of commercial establishments, including the following:
Office buildings
Retail businesses
Medical facilities
Educational institutes
Hospitality businesses
And more
Full-Stack Commercial Plumbing Services
No matter your commercial plumbing needs, Parker & Parker Plumbing has you covered, as we offer full-stack commercial plumbing services that check all the boxes, including:
Pipe repair and maintenance
New build installation
Fixture and appliance upgrades and replacements
Hydro jetting
Backflow prevention installation and repair
Water softener installation and repair
Commercial-grade water heaters
And more
Commercial Plumbing Installation
Whether you're looking to upgrade outdated fixtures, enhance your business's comfort, or save money on utility bills with a new, efficient installation, Parker & Parker Plumbing is here to get your commercial plumbing installation needs done right. From new designs to enhancements to your current plumbing infrastructure, our professionals have the tools and equipment to accommodate your needs.
Commercial Plumbing Repair
From minor clogs to major leaks, our commercial plumbing repair services are designed to promptly detect, diagnose, and remedy your plumbing inefficiencies to restore full function and comfort to your business. Using industry-leading techniques and quality equipment, rely on Parker & Parker Plumbing to eliminate your plumbing problems without hassle or delay.
Commercial Plumbing Maintenance
To ensure the productivity and longevity of your commercial plumbing system, commercial plumbing maintenance is vital. Our commercial plumbing maintenance solutions encompass all the essential components of a healthy plumbing system, including drain cleaning, inspections, and minor tune-ups to address areas of concern before they develop into costly and complex issues.
Choose Our Experienced Commercial Plumbing Team
At Parker & Parker Plumbing, we understand the importance of precise, high-quality commercial plumbing services. As such, we use only the latest equipment and state-of-the-art techniques while working promptly and professionally to ensure minimal disturbance to your operations. We diagnose and resolve plumbing inefficiencies and perform skillful upgrades and installations.
Highly skilled and experienced industry experts must carry out commercial plumbing services. That's why customers in Visalia, CA choose Parker & Parker Plumbing as their trusted partner in commercial plumbing services. Adhering to regulations, strict safety protocols, and unrivaled quality standards, rely on our team for efficient and reliable commercial plumbing solutions.
Contact Parker & Parker Plumbing Today
Whether you're looking to enhance the performance of your business with a commercial plumbing installation or restore the efficiency of your commercial plumbing fixtures with comprehensive repairs, Parker & Parker Plumbing is here to get the job done right. Contact us today to schedule your commercial plumbing services.
Schedule Your Appointment Today