Skip to Content
Expert Shower Repair & Installation Services in Visalia, CA
Schedule Shower Repair & Installation Services in Visalia, CA
Upgrade Your Shower Experience With Parker & Parker Plumbing
When you take a shower, do you barely get any water pressure because your showerhead is broken? You can rely on Parker & Parker Plumbing for all your shower repair and installation services in Visalia, CA and elsewhere in the Central Valley. We're equipped to handle all types of plumbing services, ranging from replacing showerheads to leak detection and whole-home repiping. Reach out to schedule our local, competitively priced plumbing services. We're fully insured and available 24 hours a day for plumbing-related emergencies of all sizes for your peace of mind. There's hardly anything we can't fix!
Let Our Experts Help You Find a Showerhead That You Love
If you need a new showerhead, let Parker & Parker Plumbing handle your installation. There are tons of different showerheads to choose from, depending on your unique preferences and budget. If you're interested in an energy-efficient showerhead to reduce your monthly water bills, we'd be happy to make some expert recommendations. We pride ourselves on providing excellent customer service and quality results every time. You can hire us to install any of the following in your Central Valley home:
Single-spray showerheads
Dual showerheads
Rain showerheads
Ceiling-mounted showerheads
Shower panels
Multi-function showerheads
What Are Common Problems With Showers Requiring Repair?
Clogs are a common culprit plaguing homeowners. Hair, dirt, soap, and other materials can ultimately build up inside your shower drain and stop your water flow. Rings around your bathtub caused by rust and water stains on your plumbing fixtures, walls, or flooring are other common issues you may encounter over time. Broken shower heads, valves, and other fixtures are another reason to call us. Any time you aren't comfortable within your home's bathroom, you can feel free to reach out to us. Ignoring such problems can lead to a loss of functionality, water damage, or damage to your plumbing system. It's usually best to address clogs and other issues as soon as possible to minimize the repair costs and inconveniences they cause. When you need shower repair services, call Parker & Parker Plumbing.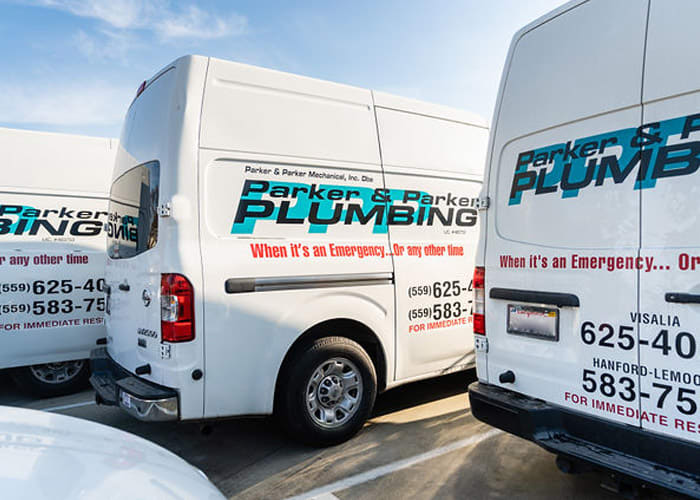 When Are Shower Replacement Services Needed?
Does your shower spring frequent leaks, or do you find yourself often standing in a pool of water inside your shower? Have you noticed rising monthly water bills over the past six months? If your shower is no longer functional, it could be time for a shower replacement. Upgrading to a new shower, bathtub, or showerhead can help you add significant resale value to your home, not to mention improve your shower experience and comfort. Our courteous local plumbers can help you design or choose the best options for your budget, as well as install them efficiently. Don't let a damaged bathtub or shower cause you concern. We'll make sure you get it repaired or replaced in hardly any time at all!
Why Choose Us for Shower Installation Services and More?
A family-owned company with over 40 years of expertise, Parker & Parker Plumbing is the preferred plumber of many Central Valley residents. Our plumbing services come with strong industry warranties to ensure customer satisfaction. From shower installation services to the installation of toilets, water heaters, and whole-house water filtration systems to drain cleaning and trenchless water line replacement and repair, no plumbing job is out of our scope. Our residential and commercial plumbing services are affordably priced, and we're always a phone call away day or night with around-the-clock emergency service available. You won't be disappointed when you choose our dependable team.
Contact Us to Schedule Shower Service at Your Convenience
If you need shower service in the Visalia, CA area, contact Parker & Parker Plumbing to speak with our trusted local plumbers. Burst pipes, broken showerheads, leaky faucets, and clogged drains can all be annoying, but we can help repair or replace them without breaking the bank. Thanks to our speedy response times and friendly customer service, you'll feel at ease once you make that initial call. Don't wait until your utility bills start to spike. Ask us about water-saving options you can implement today!
Schedule Your Appointment Today