Skip to Content
Toilet Repair & Installation by Expert in Visalia, CA
Is It Time to Replace Your Home's Porcelain Thrones?
Reliable Toilet Repair & Installation Services
Nowadays, you have tons of toilet options for your home. When you need to install a new toilet, count on Parker & Parker Plumbing to help you make the best choice. We're a local plumber capable of installing any type to suit your budget. Our extensive plumbing services include toilet installation and repair services in Visalia, CA and surrounding communities in the Central Valley. We'll ensure you're satisfied with your selection. Get in touch with us now to schedule services at your earliest convenience. Our plumbers are available 24 hours a day to accommodate plumbing emergencies, including leaky or overflowing toilets. Don't fret about a clogged toilet or broken bowl any longer. Call our team today!
Common Toilet Repair Services We Provide and Their Causes
The average household toilet sees a lot of daily usage. Most people use the bathroom at least 4-10 times per day and maybe more if they have bladder or bowel issues. With so much usage comes wear and tear and a host of plumbing problems that can become a nightmare if not handled professionally. These are the most common toilet repair services we provide and their causes to help you prevent them:
Clogs – Toilet clogs are probably the most common plumbing issue you will experience. If ignored, clogged toilets can cause severe backups, flooding, mold growth, and warped flooring. Many clogs are preventable. Flushing too much toilet paper or materials that are not meant to be flushed (like disinfecting or baby wipes, sanitary napkins, or food) is often the culprit. Mineral buildup can also cause blockages inside your toilet drain or pipes. You may be able to use a plunger to correct a minor clog, but more serious clogs may require a plumber. Drain cleaning is one of our most requested plumbing services.
Broken Tank or Bowl – Cracks in your porcelain tank or bowl may not always be visible. If you've noticed pools of water around your toilet, this can clue you in to a problem. A broken tank may result in its inability to refill itself completely, which may cause your toilet to keep running. Toilets that don't stop running will eventually jack up your water bills. If your toilet is cracked, it may be time for a replacement.
Condensation – Have you noticed condensation on or around your toilet? You may need better insulation installed in your toilet tank. If ignored, condensation can lead to bigger problems.
Worn Flapper Valve – If your toilet is constantly running or flushing on its own, you could have a worn-out or defective flapper valve. The flapper valve is the part you push down on to flush that makes the movement of water from the cistern to the toilet bowl possible. Ignoring this issue could cause your water bill to skyrocket.
Leaky Toilet – If you have a leaky toilet, loose connections are often the cause. Sometimes, the rubber lining inside your toilet can deteriorate, or the supply tubes may loosen. It's best to have your toilet inspected by a plumber to make sure everything is sealed as it should be. Let our leak detection experts take a look at your toilet and determine the problem.
Sewer Line Clogs – If you've noticed the smell of sewage in your home or bright green patches of grass in your yard, you likely have a sewer line clog. Flushing foreign objects and broken pipes often cause sewer line clogs, as do overgrown tree roots and shifting soil underground. If you find your shower and toilet backing up a lot, have a professional inspect your sewer lines. Parker & Parker Plumbing provides sewer repairs and replacements for Central Valley homeowners.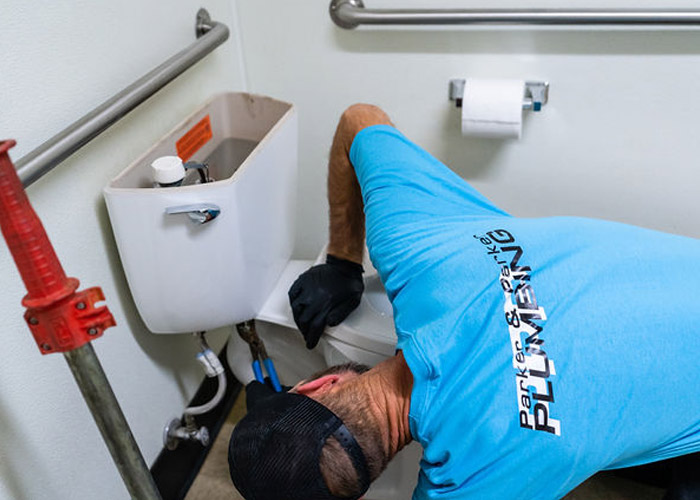 Why Choose Parker & Parker Plumbing in the Central Valley?
For over 40 years, Central Valley residents have relied on Parker & Parker Plumbing to take care of their toilet repair and installation needs. Our family-owned company is fully insured and offers unbeatable warranties on our parts and labor. If your toilet is past the point of repair, our team would be happy to help you select a new model. We can make recommendations based on energy efficiency or budget. We strive to be as honest and upfront about our plumbing services as possible, explaining problems in layman's terms you can understand. No residential or commercial plumbing issue is out of our expertise.
Our Plumbing Team Can Tackle Any Issue With Your Toilet
As plumbing experts, Parker & Parker Plumbing can handle any toilet problem. We can fix your toilet if it won't stop running, it's been leaking water, its tank or bowl is broken, or it doesn't flush properly. Clogged toilets and other issues are more than a mere inconvenience. They can wreak havoc on your home's plumbing and cause untold damages to your floors and ceilings. Contact us today to schedule toilet repair or installation services in the Visalia, CA area. We're available around the clock for you!
Schedule Your Appointment Today