Skip to Content
Trenchless Water Line Replacement & Repair
Trenchless Water Line Serviced From the Pros
For over 35 years, Parker & Parker Plumbing has been the trusted team of professional plumbers in Visalia, CA when it comes to trenchless water lines services. Our repair and replacement specialists come to your home or office with all the necessary licensing and certifications required to give you confidence when hiring. Their friendly faces and experience in the industry lend themselves to providing you only the services you need to get clean water to those under your roof. We thoroughly examine the water line and other attached plumbing systems to diagnose the issues and then develop a personalized plan of action for repairs or replacements. Give us a call today to schedule your initial consultation. We also provide customers with 24/7 emergency services for your plumbing system when needed.
How The Modern Trenchless Water Line Repair Works
Trenchless water line repairs and replacements are the new and innovative way to deliver the services your water line needs without destroying your yard and landscaping. By using these modern techniques and equipment, Parker & Parker Plumbing can get your plumbing carrying water again swiftly, without the headache and cost of digging. We begin each project with an in-depth camera inspection. Our plumbers snake down the fiber wire camera at the closest pipe to allow us to see everything going on in your plumbing and pinpoint the troubled area. Whether a clog, tree root, or burst pipe, we can quickly diagnose the issue. Our team can then decide which of the trenchless water line repair methods would work best for your system and your wallet. These methods include all of the following:
Sliplining – A smaller pipe is inserted into the existing plumbing to repair holes and cracks or replace the pipe entirely to return structure and stability to the system. One drawback is since it is smaller, it may affect performance.
Cured-in-Place Piping – Using a felt-lined and polyester saturated pipe, we can fit this new pipe into systems with curves with ease. Then, we pump air and water to help it conform to the existing system, and it is heat cured to prevent further corrosion and other issues.
Pipe Bursting – We only use this technique for complete replacements. Your Parker & Parker Plumbing technician will install an expander head to push out the old pipe by chipping and breaking it slowly while the new pipe becomes permanent.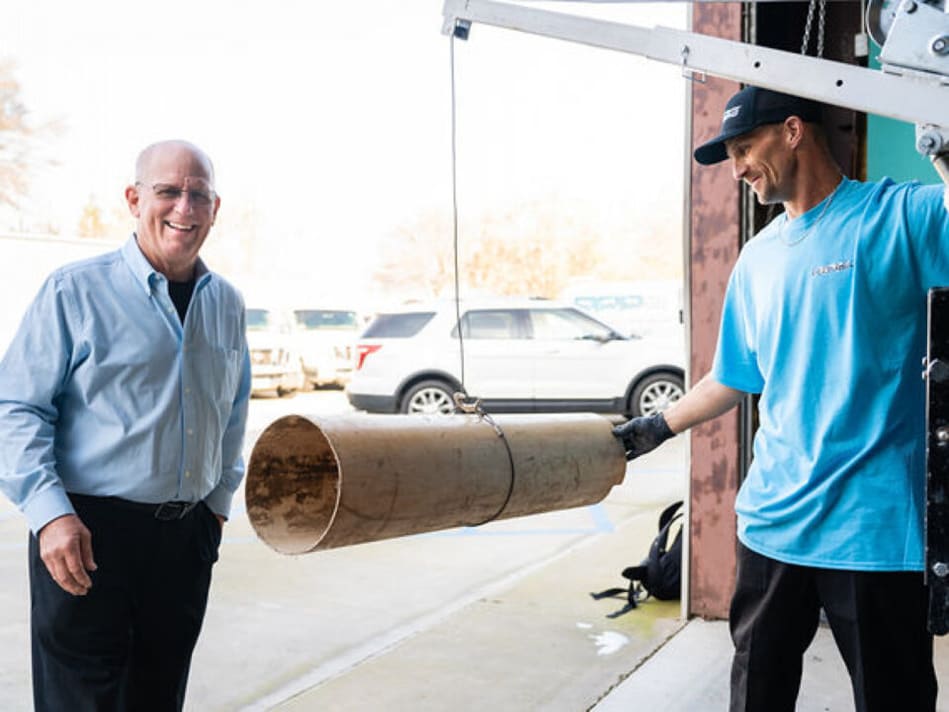 Signs You Need Trenchless Water Line Services
Since the majority of your plumbing is installed underground, you may not recognize the issues with your pipes right away. Please rely on the Parker & Parker Plumbing professionals to help you discover when you should give us a call for an inspection. Catching these issues earlier helps us safeguard you from more extensive and often times more expensive trenchless water line repairs and replacements. Be on the lookout for all of the following symptoms:
Lush Patches in Your Lawn
Random Puddles in the Yard
Water Discoloration & Odor
Low Water Pressure
Benefits of Trenchless Water Line Repairs & Replacements
Thanks to advancements and innovations in the plumbing industry, we at Parker & Parker Plumbing can utilize trenchless water line repairs and replacements. Your home or office will greatly benefit from these types of services rather than going with traditional methods to restore the structure and stability of your plumbing system. With these older methods, we would have to dig up your lawn and potentially wreck your cultivated landscaping to locate the trouble area and then administer professional plumbing services. Thanks to modern tools, we can implement our stellar plumbing services without having to remove a blade of grass. On top of maintaining your lawn and landscaping, these services often are more affordable than traditional plumbing repairs and replacements.
Additionally, we can complete the services quicker since we will not have to dig and replace the dirt. You will also enjoy more substantial and more durable pipes with newer materials designed to prevent corrosion and rot. Finally, you can relax knowing you are doing your part to help the environment. Trenchless water line repairs and replacements are environmentally friendly and help reduce your carbon footprint.
Reach Out to Parker & Parker Plumbing For More Help
The Parker & Parker Plumbing team of professional plumbers dedicates themselves to delivering the best trenchless water line repairs and replacements. Your Visalia home or office relies on water to cook, clean, stay hydrated, and more, so when there is a problem getting clean water for these tasks, call on our well-trained staff to find the problem and quickly develop a solution. We provide all sorts of different plumbing solutions to ensure everyone under your roof stays happy and healthy. You can also rely on us for 24/7 emergency services because these issues rarely take your time and schedule into consideration when cracking, breaking, or bursting.
Schedule Your Appointment Today