Skip to Content
Plumbing Video Camera Inspection in Visalia, CA
Comprehensive Plumbing Video Camera Inspection Solutions
Diagnosing plumbing malfunctions with precision and accuracy can be challenging without taking apart fixtures and causing disturbance to the property. Fortunately, with Parker & Parker Plumbing in Visalia, CA, those days are behind us as we provide comprehensive plumbing video camera inspection solutions that easily uncover hidden plumbing abnormalities.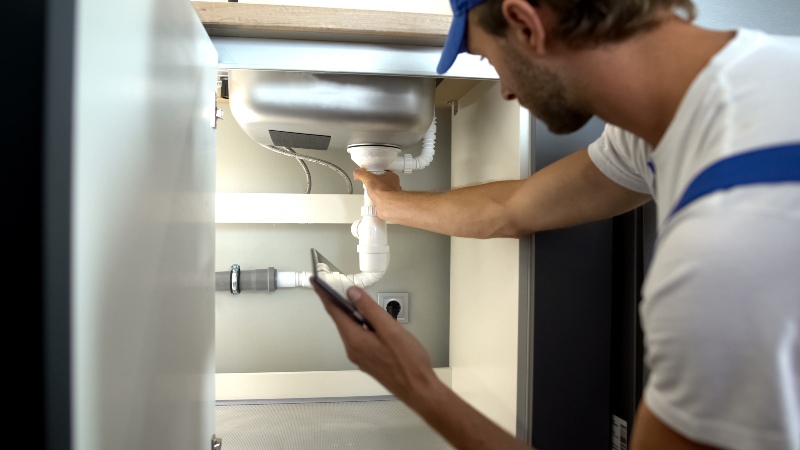 Detect Plumbing Malfunctions with Precision and Accuracy
Parker & Parker Plumbing's plumbing camera inspection is the latest in advanced plumbing technology. Combining decades of experience and our state-of-the-art equipment, we help homeowners detect plumbing malfunctions with precision and accuracy without wreaking havoc on their fixtures and comfort, offering a reliable solution for detailed inspections without the hassle.
Understanding Plumbing Video Camera Inspections
Plumbing camera inspections are non-invasive alternatives to traditional plumbing inspections that require removing parts and pieces to access the pipes' inner workings. Our innovative plumbing camera device is snaked through the drains and pipes to provide an exclusive view of what's happening inside, enabling us to promptly and efficiently detect areas of concern.
When to Pursue a Plumbing Video Camera Inspection
Our customers rely on Parker & Parker Plumbing's video camera inspection solutions for many reasons. From suspected damage and sewer line camera inspections to renovation plans and retrieving lost items that have fallen down the drain and beyond, our professionals are here to satisfy various inspection demands.
Common Problems Detected With Plumbing Camera Inspections
When we conduct plumbing video camera inspections, we often come across the following problems hidden within pipes, drains, and sewer lines, including
Pipe misalignment
Damaged, cracked, or otherwise broken pipes
Cracks and holes in pipes
Corroded or rusted pipes
Tree root intrusions and other types of obstructions
Diagnose Plumbing Issues
Plumbing video camera inspection services allow our team to diagnose plumbing issues promptly and effectively, as this modern technology grants us immediate access to what is happening deep within your pipes. From finding leaks and clogs to tree root intrusions in sewer lines, we can diagnose and remedy your malfunction with the most suitable solutions.
Secure Fast Repairs
Rather than spend time taking apart plumbing fixtures, our plumbing camera inspection allows us to quickly detect areas of concern to curate effective repair solutions that restore the function of your plumbing. Our plumbing camera inspection eliminates the guesswork and hassle and minimizes any disturbance to your life, helping you secure fast repairs and peace of mind.
Combat Damage to Your Plumbing
When plumbing inefficiencies are left unaddressed, they can quickly become more complex and costly. Plumbing video camera inspections combat this by providing proactive insight into your plumbing, allowing for early detection and prompt maintenance or repairs to mitigate further damage to your plumbing fixtures.
Benefits of Plumbing Video Camera Inspection Solutions
Plumbing camera inspection services provide homeowners with many benefits, including:
Precise and accurate diagnosis of your plumbing issues
Non-invasive and minimally disruptive for a hassle-free experience
Prompt and efficient
Allows for accurate inspection of hard-to-reach areas of your plumbing
Suitable for pipes, sewer lines, and more
Choose Parker & Parker Plumbing
Whether you need a video camera drain inspection, a sewer camera inspection, or just about anything else, Parker & Parker Plumbing is here to get the job done right. Backed by years of experience and a commitment to the utmost customer satisfaction, our team works diligently to provide you with quality solutions that enhance the performance of your home.
Contact Parker & Parker Plumbing Today
Prevent costly and complex plumbing malfunctions and discover the power of early intervention with Parker & Parker Plumbing's plumbing video camera inspection services. Contact our friendly team today to discuss your needs and schedule your plumbing camera inspection.
Schedule Your Appointment Today